2017
All LUME events this year take place at IKLECTIK, 20 Carlisle Lane, London SE1 7LG.
24th + 25th June: LUME Festival 2017
The second LUME Festival is taking place at IKLECTIK on the weekend of 24th/25th June! This year's event will be a two-dayer, with a host of LUME's favourite artists on the bill. Join us for two days of spontaneous musical explorations, collaborations old and new, live painting from Gina Southgate and all round good times…
Tickets on sale now from the Luminous Bandcamp site.
Praise for last year's inaugural festival:
'A glimpse of the kind of self-generated, mutually supportive communities we're going to need if we're to survive the years ahead.' – Daniel Spicer, The Wire
'Like all the best family get togethers LUME Festival should be an annual event. This debut was outstanding.' – Thomas Rees, Jazzwise
Saturday: The Hat Speaks // Alex Bonney solo // Ma/ti/om // Archipelago // Sloth Racket // Corey Mwamba (LUME Lab Festival Special) // Gina Southgate
Sunday: The Hat Speaks // Tullis Rennie solo // Birchall/Cheetham/Webster/Willberg // Entropi // Metamorphic // LUMEkestra //Gina Southgate
Food // drinks // merch
2pm til late both days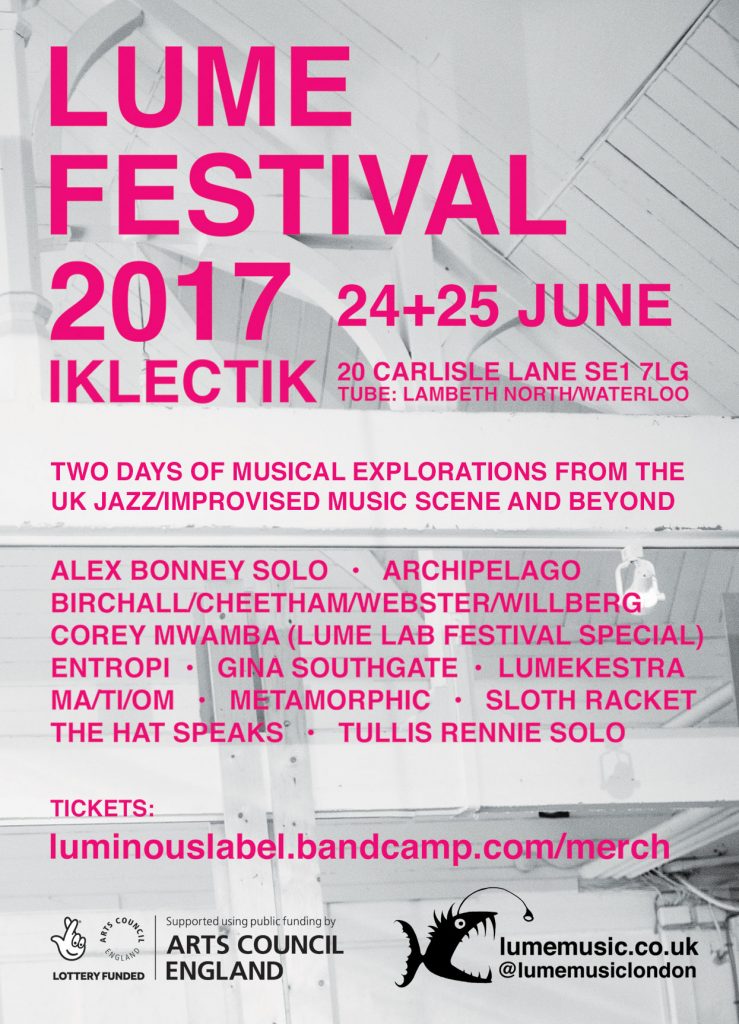 LUME Lab and LUME Festival 2017 are supported by Arts Council England.
Gig archive
24th May 2017 – LUME Lab #4: Anton Hunter
19th April 2017  – LUME Lab #3: Craig Scott
16th March 2017  – LUME Lab #2: Julie Kjær
8th February 2017 – LUME Lab #1: Word Of Moth