Since 2013 musicians Cath Roberts and Dee Byrne have worked together on projects under the banner of LUME, always with a focus on new original/improvised music. Activities so far have included concert series, residencies and tours, and we also release music through our offshoot label Luminous. Read on below for the history of LUME, or head over to the Projects page to find out what we've been up to more recently.
The story so far…
LUME started life in 2013 as a weekly night that featured artists from across the UK creative music scene and beyond, acting as a space for new work and experimental music-making. A selection of live recordings from LUME gigs can be found on the Live At LUME compilation albums. The gigs took place at various venues, but mostly the now-closed Hundred Crows Rising in Islington followed by Long White Cloud in Hoxton. Alongside the weekly sessions we ran a monthly residency at the Vortex Jazz Club in Dalston from 2014 until 2016, and for our 2015/16 season, we combined the residency with monthly gigs in a variety of spaces around London, including record shops, galleries and bookshops.
LUME received the Jazz Services/PRSF Jazz Promoters Award in 2013 and 2014, and was a London Jazz Festival partner venue in 2013 and 2014, going on to host an afternoon of LUME LJF programming at the Barbican in 2015. In Spring 2015 we took our ensembles Quadraceratops and Entropi on the road for 'LUME On Tour'; nine gigs around the UK with support from Arts Council England. We produced the inaugural one-day LUME Festival at IKLECTIK, London, in June 2016. 2017 saw the first edition of our new LUME Lab series, the second LUME Festival and more. After taking a year off in 2018 to concentrate on our own music, we're looking forward to new LUME horizons…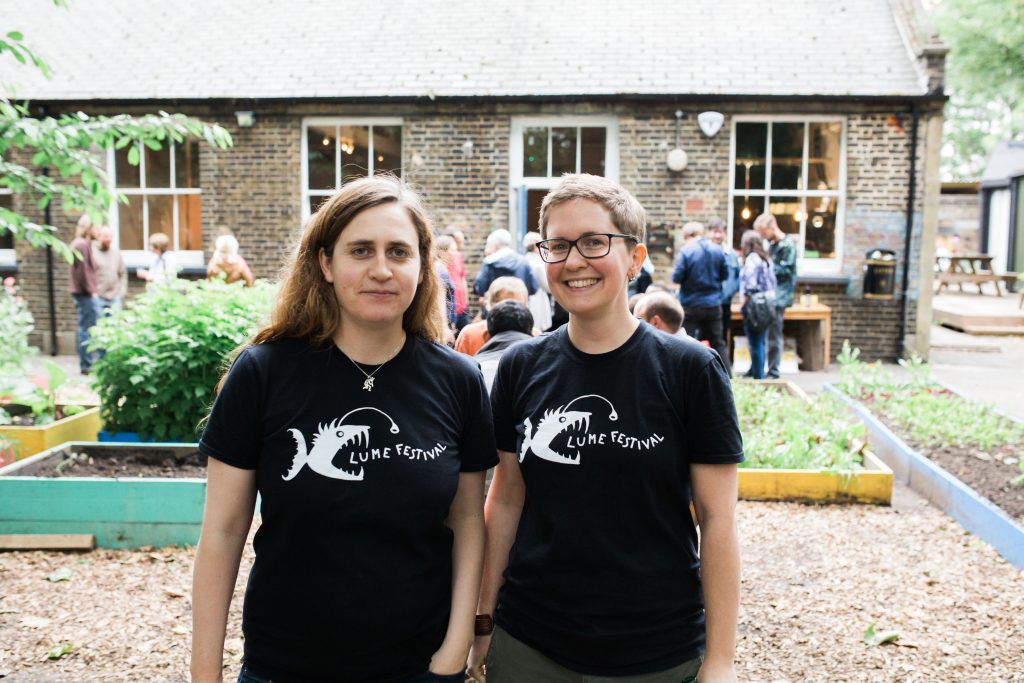 Stay in touch
If you'd like to receive a regular email about upcoming LUME activities, fill in the form on the right of this page.
You can follow us on Twitter @lumemusiclondon.
Our email address is hello at lumemusic.co.uk (please note though: we are not running a regular series at the moment, so we're not accepting artist submissions!).
Our current artwork is by Cath Roberts (like the LUME Festival logo on our t shirts in the photo above), and all our artwork from 2013 to late 2015 was by Peter Beatty (like the awesome fish below).